Prime Love e-Self-assessment follows a complete series of personal and spiritual development sets (score lines). Like the 9 stages of love, the 9 jewels of love, the 9 stages of development, and others.
The very first self-assessment we suggest to our students is that one of the 9 stages of love (see chart and urls below).
Self-assessment sessions will lead you to a complete Mirror-experience, and clarity regarding your current status, and future stages of development you wish to engage in through prime love trainings and e-coachings.
The service Is provided ONLINE through skype.
PRICES:
THE 9 STAGES OF LOVE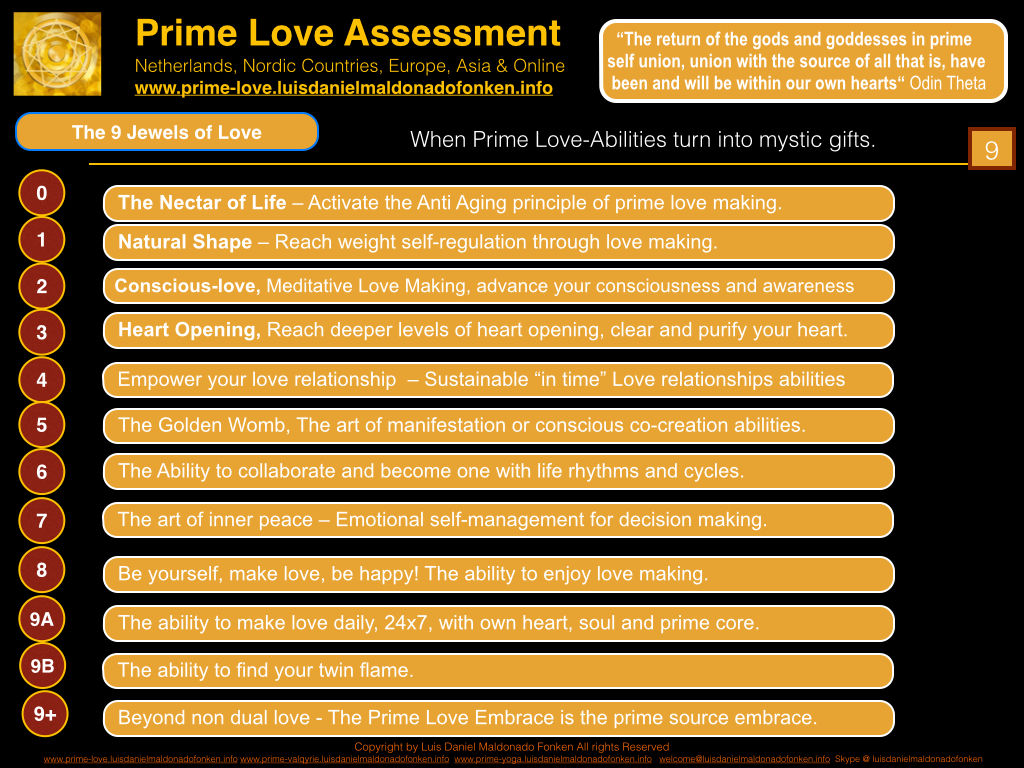 This self-assessment practice will give you an idea, a mirror or your status, but as well of your perception, how you perceive yourself, your life, your love relationship and your love relationship ability (stage of love) today/now.
As well it may give you a destination, a journey, if you wish, would like to, reach advanced stages of love.
Prime Love Self-Assessment Introduction Includes:
45 min Prime Love Self-Assessment : 9 Stages of Love
Introduction to Prime Love Self-Assessment
Introduction to Prime Love e-learning & e-coaching
More about  "The 9 Stages of Love" E-SELF-ASSESSMENT
The 9 Stages of Love http://prime-love.luisdanielmaldonadofonken.info/2016/01/25/self-assessment-which-is-the-stage-of-love-you-experience-most-of-your-day-love-relationship-time/
Reach that wonderful love heart open quality of experience http://prime-love.luisdanielmaldonadofonken.info/2016/01/26/the-journey-of-love-have-you-ever-loved-how-to-reach-that-wonderful-love-heart-open-quality-of-experience-you-ever-had-once-again/
MORE ABOUT E-COACHING